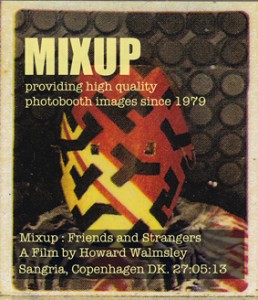 Performance, identity and the photobooth.
An expedition into the world of photobooth art and a search for lost narratives.
The film celebrates the work of photobooth artist Mr Mixup, who has been using chemical photo-process analogue photobooths to create his work since 1979.
Yes, 1979.
Along with other significant figures on the UK photobooth scene, Kate Tyler, Mark Aldous and Alex Kokott, we encounter images made by a number of strangers. These lost, found or separated photostrips present mystery, enigma and speculation. The only thing we actually know about the people represented here is that they entered the booth, placed the requisite coins in the slot and waited for the flash…
All the music featured in the soundtrack is produced by Mixup with a variety of collaborators.